31 Mar 2016
Home
»
Social Media
» Uber & ROZEE.PK Partner to Help People Find Jobs at Lahore Jobfair
Uber & ROZEE.PK Partner to Help People Find Jobs at Lahore Jobfair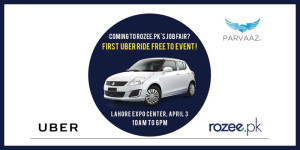 Uber and ROZEE.PK today unveiled a partnership to help more people in Lahore find jobs by making it easier for them to attend the ROZEE.PK Parvaaz 2016 Jobfair to be held in Expo Center on Sunday April 3.
Uber will be providing free rides for all first time users of its service and will be giving a 50% discount for all subsequent rides to and from the job fair venue at Expo Center in Johar Town. Over 125 companies will be hiring at the job fair with an expected attendance of around 40,000 people. Attending professionals will also benefit from free one-on-one career mentoring clinics with Human Resource executives from leading companies.
Uber's Head of Expansion in Pakistan, Zohair Yousafi emphasised:
Uber, the leading smartphone technology company that connects riders to drivers at the push of a button, shares ROZEE.PK's vision of making the lives of Pakistanis better by having a long-term commitment of creating tens of thousands of jobs and entrepreneurship opportunities across Pakistan. By providing free transportation to this landmark event, we hope that more people will be able to benefit from the job opportunities and career grooming clinics being offered.
Monis Rahman, CEO of ROZEE.PK, said:
Access to convenient and affordable transportation remains an impediment for many professionals in moving ahead with their aspirations, particularly for our female colleagues. We are delighted to partner with Uber to maximize the impact of our upcoming job fair in Lahore on April 3.
How to avail this offer:
Register online for the job fair at parvaaz.rozee.pk
You will receive an Uber promo code in a confirmation email
Download the Uber App
Book a ride through the app and enter the promo code
Attending the job fair:
Register online to attend the job fair at parvaaz.rozee.pk
Download the Rozee App
Create your profile on the Rozee App if you do not already have one
Visit the job fair at Expo Center in Johar Town on Sunday April 3
Scan QR Codes through the Rozee App displayed on booths of companies you want to apply to for paperless CV submission
Hello. I am a Web Developer. a Blogger.an illustrator.a writer.a freelancer.an inventor.a wordpress Designer .a coffee lover. I live in a small town somewhere in the world. I am passionated about Web Development and Website Front-End designing.
Latest posts by Sarmad Gardezi (see all)